The curious case of Rishabh Pant; coaches feel he is 'a long-term investment'
|
NEW DELHI: There was a time when Indian wicketkeeper-batsman Rishabh Pant was tagged as the best man to take over the reins from the legendary Mahendra Singh Dhoni in limited-overs formats.
Dhoni's void is extremely tough to fill, but among the main contenders, Pant's name usually came up on top in most discussions. However, things have changed now.
The two main contributing factors have been KL Rahul's consistent run with the bat in limited overs cricket, which made him the first choice keeper-batsman and Pant's own dismal showing with the bat and fitness issues. Rahul in fact has been named India vice-captain for the limited overs series coming up Down Under, in the absence of the injured Rohit Sharma, while Pant was dropped from both the ODI and T20I teams.
Pant meanwhile has also been working hard on fine tuning his keeping skills.
If the IPL is taken as a barometer to gauge Pant's exploits with the bat over the years, the reading is an interesting one.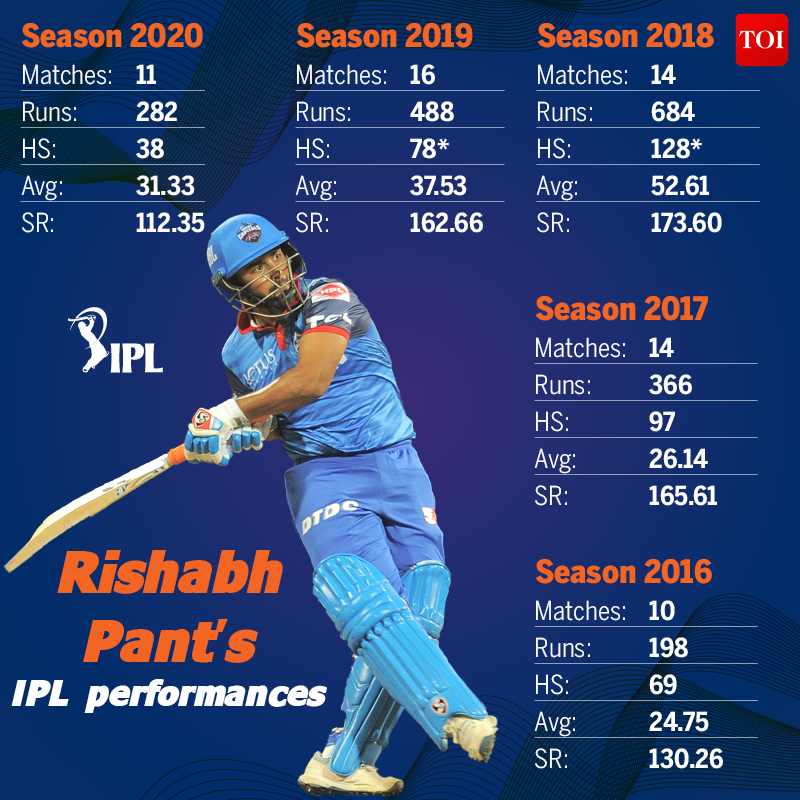 His standout season was 2018, when he had an average of over 52. Seasons 2016 and 2017 weren't particularly good, while he bounced back in 2019, with an average of over 37 and 488 runs in 16 games.
In the ongoing Indian Premier League 2020 though, Pant, who is representing Delhi Capitals, has scored 282 runs in 11 matches (11 innings) at an average of 31.33. His strike rate has been an area of concern (112.35). The 23-year-old Pant, who is known for his hard-hitting onslaughts, has hit just 27 fours and 7 sixes so far.
But what is the main reason behind Pant batting graph dipping?
What one shouldn't forget is that Pant is still very young. Is he perhaps being over-coached and getting too much advice from different quarters?
Former India wicketkeeper Kiran More, who worked with Pant in an unofficial capacity to help the youngster hone his skills better, doesn't agree with that. More believes the 'talented' Pant will soon make a strong comeback.
"I don't think coaching has anything to do with it. When you reach such a level, you get a lot of tips from every corner. Be it IPL, domestic tournaments or international, a player gets a lot of guidance from different coaches. But it is all up to a player how he takes the tips and how he applies himself. He (Pant) has to improve. He has got the talent and temperament and that's why he is playing international matches. A player gets mature with experience. A wine matures after many years. Similarly, he will also," More, who played 49 Tests and 94 ODIs for India, told TimesofIndia.com.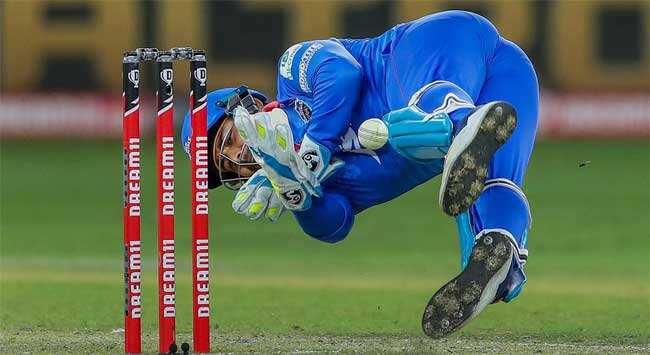 (Photo: BCCI/IPL/PTI)
The former India wicket-keeper also slammed Pant's comparison with India's experienced and first choice Test wicket-keeper batsman Wriddhiman Saha.
"I want to ask why people are comparing him with Wriddhiman Saha? Saha is 36. Rishabh is just 23 right now. By the time he will reach 30 or 31, he will be the best in the world. He has got the talent. You can't be a world-class wicket-keeper batsman in one or two years' time. It takes time," the former ace India wicket-keeper further said.
Pant's childhood coach Tarak Sinha also feels too much coaching isn't the reason behind his student's stop-start run with the bat. According to him, seniors are there to teach youngsters, but the youngsters should apply their own minds as well.
"I don't think coaching is affecting him (Pant). Every player gets tips and guidance from seniors and coaches. But he needs to apply his (own) mind also. Pant has been taking guidance from my seniors and legendary cricketers and that is good for him. I don't think coaching has anything to do with his form," Sinha told TimesofIndia.com.
Thanks largely perhaps to his outing with the bat in the ongoing edition of the IPL, Pant was dropped from the India squad for the limited-overs series (ODIs and T20Is) against Australia in Australia. The youngster though managed to find a place in the Test squad.
Pant did have an impressive run in the 2018 Test series Down Under.
He signed off the four-match Test series as the second-highest run-getter during India's last tour of Australia in 2018. He scored 350 runs in 4 Tests (7 innings) at a very healthy average of 58.33, including one century. He scored an unbeaten 159 in the Sydney Test and played a stellar role in India's maiden Test series win in a Border Gavaskar series played in Australia. He also became the first Indian wicket-keeper to score a Test century in Australia. But at that time Saha wasn't part of the squad, because he was recuperating from an injury. It will be interesting to see the playing XI in the Tests Down Under on India's next tour, considering both Saha and Pant have been included. After all, a fit Saha will perhaps always be seen as the first-choice 'keeper in Tests.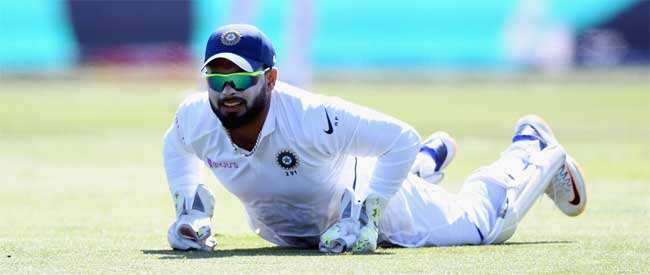 (Getty Images)
More believes it is time for Pant to stick to his basics and play domestic cricket and then make an India comeback in limited-overs cricket.
"Rest is not something he should go for. He (Pant) should keep playing domestic matches. He has got a different temperament. He has a different character. He is such a player who can make a comeback at any time. He made his Test debut for India at a very young age, that means he has got something special in him. He will make a comeback for sure," More said.
Pant's coach Tarak Sinha meanwhile is confident that Pant will turn his fortunes around in the Test series in Australia, if he is included in the playing XI.
"He (Pant) is in the Test squad. That's a big thing for him. He has an opportunity to streamline his performance and form on the tour. He needs to do what he did on the last tour. Score runs and silence your critics – that's what he should do on the Australia tour. He is a brave cricketer. I am sure he will make a comeback," Sinha, Pant's childhood coach, further told TimesofIndia.com.
LEAN PATCH
After the Australia series in 2018, Pant has been part of two-Test series. In the two-Test series against the West Indies, Pant scored 58 runs in 2 Tests (3 innings) at an average of 19.33. In the series against New Zealand in New Zealand, Pant played two Tests and could muster just 60 runs in four innings at an average of 15.00.
Since the ICC ODI World Cup in 2019, Pant has played three ODI series – vs West Indies (away), vs West Indies (home), and vs Australia (home). In the away series against the West Indies, Pant scored 20 runs in 3 ODIs at an average of 10.00. He went on to score 117 runs in 3 ODIs in the home series against the West Indies.
Pant was the seventh-highest run-getter in IPL 2019, but hasn't really set the stage on fire in this edition.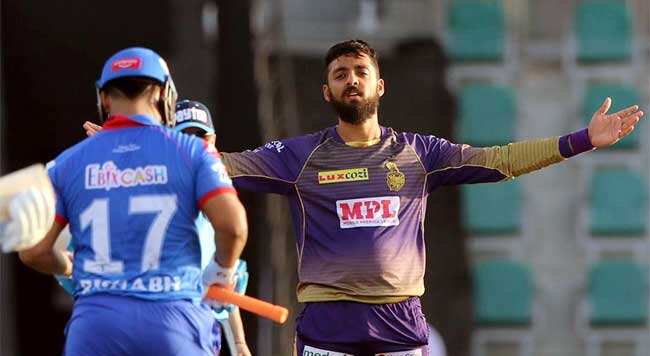 (Photo: BCCI/IPL/ANI)
Tarak Sinha says the 23-year-old Pant couldn't prepare himself well for IPL 2020, due to the coronavirus pandemic.
"As far his current performance is a concern, he needs improvement. I also want to highlight this coronavirus pandemic. He didn't get time for practice in Delhi due to the lockdown. Not just cricket ground, the gyms were closed too. Clubs were closed and indoor facilities were also not in operation. He didn't get a chance to practice and work out. This is the biggest reason for his poor performance (in IPL 2020)," Tarak said.
Pant found more support from More meanwhile, who feels people should have faith in Pant's abilities and his latent talent.
"He is not in great form. He is going through a lean patch. Every cricketer goes through this. Every year in the IPL he has been outstanding. But this year his form is not up to the mark. I am a bit disappointed. But he is a good player. You need to trust him. That's very important. He has got a lot of time in his hand. Not just in ODIs and T20s, he has proved (himself) in Test cricket as well. He will surely make a comeback. There is no doubt about it. He is a very talented player," More told TimesofIndia.com.
THE PANT VS RAHUL VS SAMSON VS KISHAN DEBATE
Along with Rahul and Pant, Sanju Samson, and Ishan Kishan are the other wicket-keeper batsmen who are contenders to become India's first-choice gloveman in limited overs cricket in the near future.
Rahul has emerged as the first choice keeper for now, so much so that the selectors felt it best to drop Pant, who is also seen to have a weight problem these days, from the limited overs series in Australia. Some feel this has been done to give him a wake-up call.
Meanwhile, Samson is knocking very hard on the selectors' door with extremely consistent performances with the bat. He has been picked in the T20I squad for the upcoming tour of Australia.
Saha is 36 and has experience under his belt. His batting technique is solid and he is a very good keeper too and has cemented his place in red-ball cricket. But his injuries have forced him to sit on the sidelines on many occasions.
Given Pant's young age, Tarak Sinha feels Pant should be seen as a long-term investment for the Indian cricket team.
"I am his coach. Of course, I will praise him. His batting and keeping skills are extraordinary. It is different from other wicket-keeper batsmen. His judgment to play a delivery and decision-making ability is different from others. Of course, he is better than others. All I want to say is that Pant is a long-term investment for the Indian team," Sinha signed off.