Shopkeeper by day, e-gamer by night: Moin's story of 'joy' & 'stick'
|
NEW DELHI: It's still a fair distance away from becoming a profession in India, and most parents consider it only a refreshing break from academics for young minds. The story of Moinuddin Imran Amdani's passion for Esports followed a similar script.
It was tagged by the family as video-game addiction, to the point where his father often dragged him out of internet cafes. But Moin didn't revolt against that opposition. He respected it, completed his studies, took care of the family business — did everything expected of the eldest child moving out of his teens, though the gamer in Moin didn't die. In fact, he grew, found ways to balance his passion and responsibilities, until he donned the India colours, which made his father put his arm around Moin's shoulder and say: "Well done, son".
Moin's story is one that shows how, if you keep at it, the stars can be forced to align and stones on the way can be turned into milestones. The Mumbai boy, who plays Pro Evolution Soccer, is 26 years old now, has represented India four times already and is now ready for his second appearance in the Esports World Championships in Israel in December this year.
After getting through the national qualifiers last month, Moin featured in the South Asian regional qualifiers to book his place in the Global Final of the 12th edition of the world event where 16 nations will participate.
"I had PS2 (Playstation 2) when I was 12 or 13. When it became outdated, I could never buy a PS3 or PS4 because it cost a lot," said Moin talking to Timesofindia.com. "Then I started playing only in cyber (internet) cafes."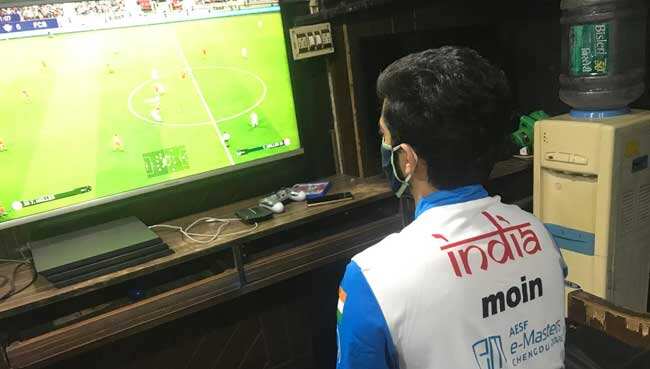 FATHER'S ANGER
Moin never pushed academics to the backseat, even when he started helping out his father at their cloth shop in Mumbai. In between, the Hinduja College graduate would escape his father's eye to dedicate a few hours to his passion.
"By the time I turned 20-21, I was hugely involved with Esports. It became an addiction. There was a lot of pressure from the family (to stop it). Once my father came over to the cyber cafe and took me back. Then he came for the second time as well and at that time he said in front of everyone, "Aaj seedhe se le kar ja raha hu. Agar teesri baar aaya na, to laafa maar ke le kar jaunga (if I have to come for the third time, I will give you a slap before taking you back home)," Moin recalled with a hearty laugh.
"After that, for almost 6-7 months, I stopped going to the cafe. Then my friends started calling and I began playing again, but it was off and on, maybe once or twice a week."
Excusing himself from working hours at the shop was next to impossible for Moin. He works from 10 a.m. to almost 8 in the evening, then goes home to freshen up before going to an internet cafe near CST (Chhatrapati Shivaji Terminus).
With most gamers coming to play there being unemployed, they worked out a system to pay the owner of the cafe.
"Many people (visiting the cafe) started playing with me. Then we introduced the 'losers pay' rule; we call it LP. No sharing of the internet charges. So best player hone ka mujhe bhi benefit hai, paise bharne nahi padte mostly (I benefited by being the best player, don't have to pay most of the times)," Moin further told TimesofIndia.com.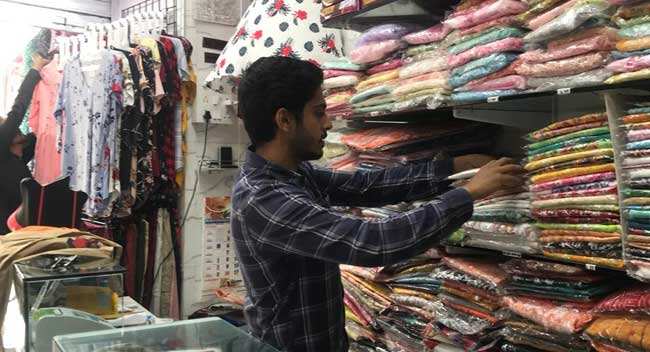 INDIA CALLING
But Moin found his 'India' calling only as late as last year. However, that too had its fair share of dramatic events, which almost put him out of the competition without even getting to play.
"During the national qualifiers (for selection in the Indian team), at around 4:35 p.m., the internet connection at the cafe was lost. My match was up next. I kept waiting for the connection to be restored. We called the internet provider as well, but he didn't reply. At that time, ESFI (Esports Federation of India) cooperated a lot."
"We went to the office of the internet provider in Madgaon. He was not there. By now, it was 7 p.m. Then I asked the cafe owner to rent out his PS4 to me, so I could go to my cousin's house and play there. The owner knew me for a long time, so he agreed. I went to my brother's house and played the matches there." Moin told TimesofIndia.com.
ESFI conducts Esports competitions in India as a full member of International Esports Federation and Asian Esports Federation. However, it is not recognised as a federation by the Sports Authority of India and is registered under the Companies Act.
The qualification for the Indian team was up next. Moin hadn't disclosed about his participation at home and now he needed at least a day's leave from the shop to participate. He was struggling to find an excuse. Then, cricket came to his rescue.
"It was a weekend," said Moin. "On Sunday, I could take a leave from the shop but on Saturday it was difficult. So I told my dad that I have to go to play a cricket match. He allowed me. I went on to win and was selected to play for India. I asked the organisers again and again to confirm. 'Am I going (to Korea) and will represent India?'"
Still, Moin couldn't find the courage to break the news to his family. For them, their son had quit gaming. So Moin wasn't sure of the reaction of his father, who had once warned him about going to the cafe and dragging him back home if he was found there again.
"When a ceremony happened, followed by an interview, I disclosed the news to the family that I have to go to Korea. They asked why. I said to play in the Esports World Championship. They were shocked, like 'Yeda bana raha hai, mazak kar raha hai (he is fooling us, cracking a joke)'
"Then the next day when a news article on me came out, I showed it to them. From that day, my father started supporting me."
His debut at the world stage in 2019 was a learning experience against tough competitors like Iran and Japan. Moin was eliminated in the group stage itself after losing both his matches.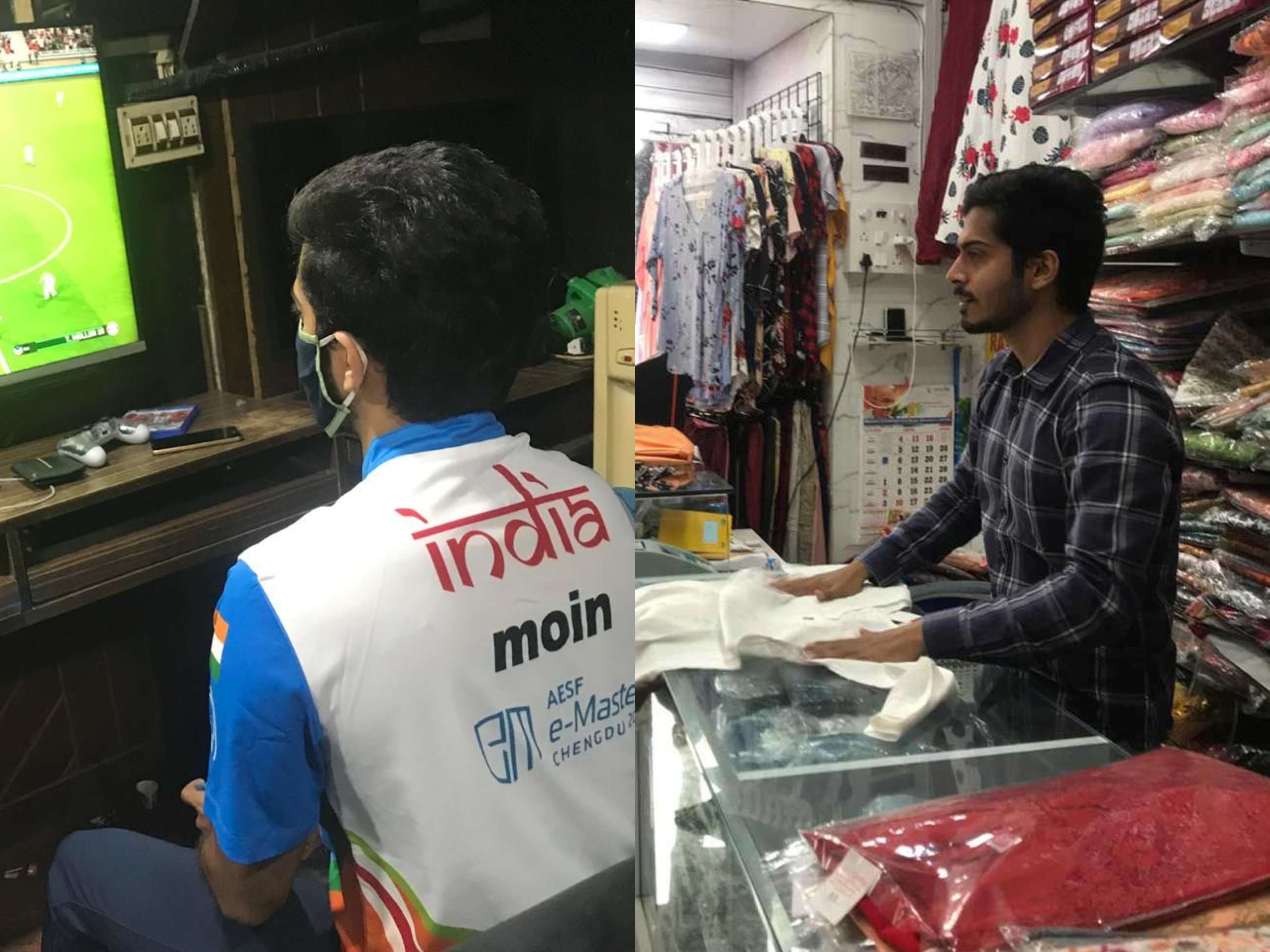 NO EARNINGS FROM ESPORTS
It's an emotional high to wear the national jersey. Sadly though, it's nothing more than that at the moment in India when it comes to Esports. There is no money to earn. Moin's only source of earning is his family business and even that has taken a hit due to the pandemic-forced slowdown.
As a result, Moin has to double up as a helper these days, after they decided to let go of two of their three workers at the shop.
"We couldn't afford to retain them after the lockdown," said Moin, who added that to earn from Esports, he would need sponsors that are almost non-existent at the moment.
"Only if I get a sponsor," said Moin when asked if he sees a chance to earn from Esports. "Once an organisation approached me, but then they stopped responding all of a sudden. Then again when the 2020 national qualifiers happened, they messaged me. But when they learnt that they can't sponsor me (give sponsorship benefits) when I am playing for India abroad, they again backed out."
In the absence of monetary perks, it's difficult to see Esports growing to the level of becoming a full-time profession that can sustain livelihoods. Having said that, it has had its moments under the sun, like when it was introduced as a demonstration sport at the 2018 Asian Games.
But there's still a long way to go, especially in terms of getting mass acceptance as a 'different' genre of sports.
Moin is willing to wait.