HealthXP Launches Shield Whey – An Immunity Boosting Whey Protein
|
The COVID-19 pandemic has been a wake-up call that highlighted the importance of having a strong immune system and being fit to the whole world. Today, staying fit and building not only their own, but also the immunity of their entire family, by consuming the right micro and macro nutrients, is on everybody's priority list. The entrepreneur duo, Girish Joshi and Sarvesh Moghe, have been dedicated to promoting wellness and building a fit society since 2014, when they launched Xpresshop Online Store to source and sell health supplements over the internet.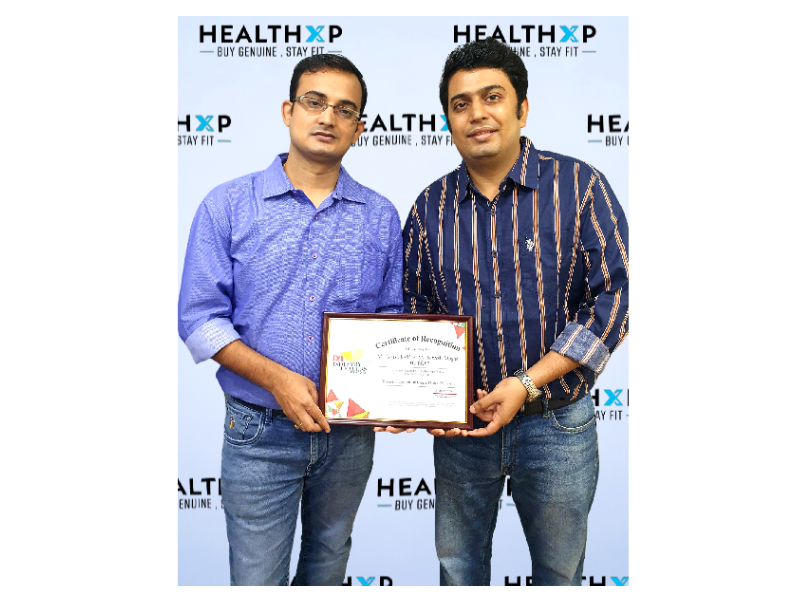 After three years they rebranded and launched their own health nutrition platform called HealthXP.in, where fitness enthusiasts could purchase a wide range of affordable and reliable dietary supplements from the website as well as receive guidance on fitness, workouts and nutrition; in short, a one-stop-shop for everything to do with fitness. Within its first year of operations itself, HealthXP became one of the most trusted websites where one could buy authentic and genuine health supplements. With their holistic approach to fitness, HealthXP won 'Best Health Startup of 2018' at the Indian Health and Wellness Summit Awards.
The young and driven partners of HealthXP Online Store, Mr Girish Joshi & Mr. Sarvesh Moghe were felicitated recently as "Young Entrepreneurs in Online Health Platforms" at the ET Industry Leaders – West 2020, an initiative that honoured and celebrated visionary business enterprises and individuals who continued to prove their mettle, exude confidence through innovation and retained their market position; despite the pandemic. You can shop for your favourite vitamins, supplements, and sports nutrition products to support all your health and fitness goals on the HealthXP app, one of the largest online supplement stores in India.
In 2019, they have pumped in their years of experience understanding the fitness and nutritional needs of various individuals to create their own line of high-end supplements under the same brand name. This line provides you with a wide range of products including whey proteins, mass gainers and even recovery supplements like BCAAs. They received an overwhelming response for all their products, not only on the HealthXP portal but on other portals as well. Today HealthXP is ranked amongst the top 3 Indian brands of Health Supplements, their biggest USP being variety in the range of products with a choice of amazing flavours, which are not available in any other indigenous brand; ranking HealthXP far ahead of its peers.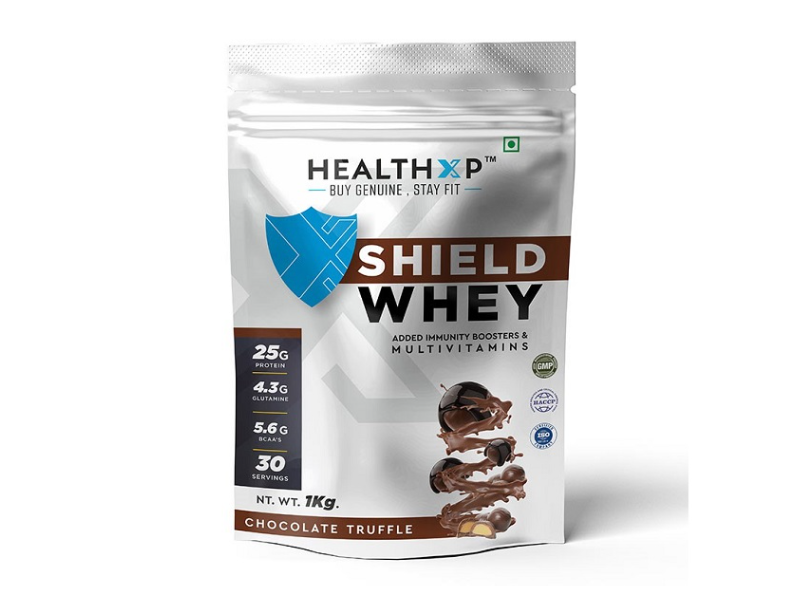 Recognising the need of the hour, HealthXP recently launched an innovative product called Shield Whey, which combines whey protein with an array of immunity boosters. This path-breaking product ensures that a single product will take care of their nutrition as well as immunity needs of the individual, eliminating the need to consume multiple products.
Like all HealthXP products, the newly launched Shield Whey strives to deliver a healthy dose of multivitamins and immunity boosters along with other high quality ingredients. If you still need convincing, read on to know about the ingredients and the additional benefits they provide.
Vitamin C, Vitamin K & Vitamin E helps boost immunity, improves muscle and overall performance
Ashwagandha (Withania Somnifera) builds muscle mass & improves muscular strength. It also helps overcome fatigue
Calcium & Vitamin D help in maintaining bone & joint strength. They also maintain health of the overall bone & joint
Milk Thistle promotes healthy and robust liver function and enhances overall body performance
It has zero added sugar
Today HealthXP is one of the fastest growing online nutritional supplement stores. In the near future, HealthXP plans to collaborate with top fitness brands of India. They are also looking at enhancing their presence through expansion of warehouses and offline stores across India. Along with making HealthXP one of the biggest fitness marketplaces in India, their aim is also to simultaneously reduce the presence of counterfeit health supplements and harmful drugs in the market.
The amazing immunity boosting Shield Whey is just a click away. Click on https://healthxp.in/product/healthxp-shield-whey-1kg?utm_source=toi&utm_medium=healthxp-shield to buy Shield Whey now.
Disclaimer: This article has been produced on behalf of HealthXP by Mediawire team.